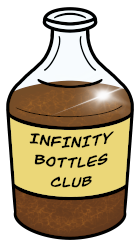 Welcome to the Club!
Inside you can create your bottle, then track each time you add something to it. Track things like the product and type of drink, amount, and proof (if doing juices, it's likely just 0 proof, cheers!). You can even add a bottle description about things like why you're choosing your approach for this bottle, or if it's intended as an heirloom for someone in the future.
Then you can see things like the ratio of your mixture, overall proof, and other fun facts about your bottle. Soon you'll be able to share with friends and discuss your bottles.
What is an Infinity Bottle, anyway?
Infinity Bottles are a way to make your own personal, unique, and ever-evolving blend of your drink of choice, typically with some sort of liquor such as whiskey, gin, vodka, or rum, but really can be anything you want!
The concept is simple: For every new bottle you open, pour some amount into your infinity bottle. The amount could be a little, just an ounce or two, or much more. Some do this with the last remaining ounces, others will do this right after they open it. The great thing is every bottle and approach is unique and totally up to you!
The important part is to track how much of each liquid you add to your bottle. Some people might just write this down in a journal, or on a label on the bottle itself, and that's great! But if you're looking to do less math to determine things like overall proof, or easily share your concoction with friends, consider joining the Infinity Bottles Club!
So, what are you waiting for? Log in and start your bottle today!
Log In